Latest News
Tuesday, 19 June 2018 1:54 pm
This RSS feed URL is deprecated, please update. New URLs can be found in the footers at https://news.google.com/news
Tuesday, 19 June 2018 1:48 pm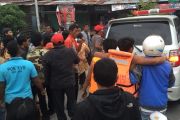 As many as 19 passengers of KM Sinar Bangun, which capsized on its way from Samosir to Simalungun, North Sumatra province, have been found until Monday night, with one reported to have died.
The search for the victims was …
Tuesday, 19 June 2018 1:41 pm

Bank Indonesia Governor Perry Warjiyo said the Central Bank is considering to further raise its benchmark interest rate to meet external pressure on the national currency.
The central bank would take further monetary steps by …
Tuesday, 19 June 2018 1:40 pm
– Conga, an application provider for companies looking to remove analog processes through automation to enhance their business productivity, today announced plans for Conga Connect Sydney, the company's first-ever event in …
Tuesday, 19 June 2018 1:34 pm

Directorate General of Land Transportation Ministry of Indonesia Budi Setiyadi headed a meeting to form five teams for handling the shipwreck incident in the waters of Lake Toba, North Sumatra Province.
The police-coordinated …
More News